About Us
1. Brief Info
Maicom Co., Ltd (Founded: 2003)

Main office: 202 Ly Long Tuong Str., My Kim Area, Phu My Hung, Tân Phong Ward , 7th Distr., HCM City, Vietnam

Tel: 08.54125171 - 54125172; Fax: 08-54125173.

Address: 27L1/4 27th street, Ward Hiep Binh Chanh, Thu Duc District, HCM City, Viet Nam;

Tax code: 0303070493
2. Business Content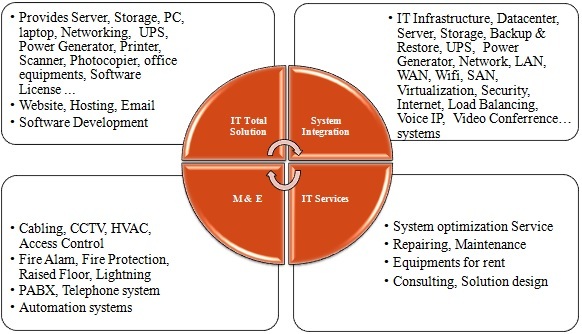 Maicom is a professional in:
Supplying:

IT equipments, Office equipments, ...

System integration (SI):

Design, Deploy and implement network LAN, WAN infrastructure, Data Center, Server room, Storage, Backup & Restore system ...

IT Services

System optimization service
Repairing, maintenance service
Equipment for rents
Consulting, solution design
Training ...

Supplying & Implementing M & E system (Mechanical & Electrical)

System of Mechanical and Electrical

Cabling system

CCTV - Camera system

HVAC. Cooling system

Raised floor

Lightning, Sure protection

PABX - Telephone system

Fire alarm, Fire protection system

Automation control system
With many years experience in implementing major projects of the government, state banks and enterprises, staff of highly competent and professional, we are constantly evolving to bring customers products, best services, contributing to bring real value to clients, accompany clients to succeed while confirming the role of information technology sector for the economy as a general and business in particular.
Solutions & Services